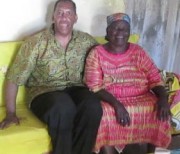 Five Time World Karate Kickboxing Champion Anthony "Amp" Elmore who lives in Memphis, Tennessee notes that President Barack Obama's upcoming July 2015 trip to Kenya and Ethiopia Connects Memphis, Tennessee, Dr. Martin Luther King and African Americans back to Africa in relationship to their African cultural Heritage and all of humanity to their one single African Heritage of humans as one people
Memphis, Tennessee, July 14, 2015 (Newswire.com) - Safari is the most noted African word in the English language and perhaps the most misunderstood says five time World Karate/Kick-boxing Champion Anthony "Amp" Elmore who lives in Memphis, Tennessee. Safari is a word Popularized by American writer Earnest Hemingway who  characterized Africa as only the romantic place of White Hunters, big game Safaris, jungles and the taming of the natives.
On July 24, 25, 26 American President Barack Obama travels to Kenya the Ancestral home of his father Barack Obama Sr. The Whitehouse website reads: "Just as President Kennedy's historic visit to Ireland in 1963 celebrated the connections between Irish-Americans and their forefathers, President Obama's trip will honor the strong historical ties between the United States and Kenya – and all of Africa – from the millions of Americans who trace their ancestry to the African continent"
Elmore notes that President Obama's  trip should be one of the greatest causes of excitement for African Americans in America's history in that President Obama is "officially connecting African/Americans back to their African Cultural heritage."  Elmore is planning a coordinating celebration at his home in Memphis, Tennessee at 1035 Semmes Street, Saturday July 25, 2015 from six to nine p.m. The public is invited.
Elmore invited his friend Memphis Congressman Steve Cohen who in 2007 introduced and got legislation passes whereas America apologized for "slavery and Jim Crow laws." Congressman Cohen in 2009 mentioned about Elmore efforts to build relationships between Africa and America on the floor of Congress.
Elmore's plan for Kenya, Memphis and America is called the "Safari initiative." Elmore notes that word  Safari is an acronym for "Styled African Family Application Renaissance Initiative." Elmore notes that all humans come from Kenya/Ethiopia in East Africa and African/Americans are re-linked to their "Cultural Heritage" via President Barack Obama's visit to Kenya and Ethiopia.
Elmore 1st visited Kenya 25 years ago in July of 1990 where he traveled to Kenya to premier his Independent produced film "The Contemporary Gladiator." While in Kenya Elmore notes that he was visited by the spirit of Kenyan leader Tom Mboya and his African Ancestors who encouraged him to tell not only African/Americans to visit their Ancestral Homeland of Africa but to pass the word that all of Humanity comes from Africa.
Elmore took groups to Kenya for over a decade.  In 1998 Elmore connected to Ghana in West Africa whereas he was inspired to create the "1st All African Inspired designed and furnished home in America." Elmore tried for almost two decades to get his friend former Memphis Mayor Dr. W.W. Herenton to  connect Memphis "the former Slave Capital of the World" to Africa and Kenya. At a Christmas party in 2007 Elmore noted to his friend Mayor Herenton that while he as Mayor of Memphis would not connect Memphis to Africa our newly elected President Barack Obama Jr. would do such.
The "Safari Initiative" starts in Memphis, Tennessee whereas American citizens will pick up the Gantlet of Dr. Martin Luther King Jr. in Memphis and take the Gantlet of Dr. King to Kenya whereas Elmore is asking the Republic of Kenya to honor African/Americans with a "Formal State Reception in July of 2018.
In May of 2013 Elmore traveled to Kenya to meet with the Grandmother of President Barack Obama Sarah Obama to gain her support. Sarah Obama explained to Elmore that Kenya and Africa was the ancestral home of he and African Americas and she was also his grandmother.  Elmore asked grandmother Sarah Obama to come to Memphis and honor Dr. Martin Luther King and the Americans of African descent to connect with their African Ancestry. Grandmother Sarah Obama agreed to come to Memphis. Recently Grand mama Sarah Obama told President Obama that he must come to Kogelo, Kenya to their Ancestry home to honor his father.
Elmore plans to travel to Kenya in October of 2015 to personally ask Kenya President Uhuru Kenyatta to honor African/Americans with a "Formal State Reception" in Nairobi, Kenya in July of 2018. African Americans spend over 48 billion a year on travel and is Africa's greatest potential market are African/American tourist. Elmore married a Kenyan in 1995, while they are no longer married they have a 16 year old Son Anthony "Amp" Elmore Jr.  who is 1/2 Kenyan like President Obama. Elmore plans to travel to Kenya with his Ethiopian born wife. They plan to visit with Grandmother Sarah Obama and arrange for her to visit Memphis and invite her to stay at their home while in Memphis.
The Elmore's are inviting all of Memphis to come to their home and engage and share in African culture and support President Obama's Kenya and Ethiopia visit.  They will serve African food and the public is invited.  Elmore's Tennessee State Senator Reginald Tate is calling for the Tennessee Governor to name July 25, 2015 Kenya day in Memphis.  Learn more about the "Safari Initiative" via their website at www.homecomingcelebration.com
 
Share: