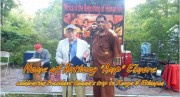 While the World is looking for a great African leader to emerge, all it takes is the "stroke of a pen" for Kenya President Uhuru Kenyatta to become the greatest African leader living in the 21st Century. Kick box Champion Anthony "Amp" Elmore who lives in Memphis, TN asks Kenya President Uhuru Kenyatta to honor African/Americans with a "Formal State Reception in Nairobi, Kenya in July of 2018.
Memphis, Tennessee, August 5, 2015 (Newswire.com) - In 1956 at the age of 26 a young Kenyan by the name of Tom Mboya set the foundation for Kenya to become the greatest African nation in the world. Inspired by the civil rights movement in America Tom Mboya reached out to African/African leaders and Whites to help Kenyans to pay for airfare to get to America for an education. One of those Kenyan students was Barack Obama Sr. who came to Hawaii in 1959. Civil rights attorney Thurgood Marshall who later became a Supreme Court Justice negotiated Kenya's freedom and drafted Kenya's constitution.
White business leader William X Scheinman, singer Harry Belafonte, Baseball Great Jackie Robinson, Actor Sidney Poitier, Dr. Martin Luther King, Activist Malcolm X , Americans both Blacks and Whites helped Mboya.  Most important the Kennedy Foundation and President John F. Kennedy helped Tom Mboya and Kenya.
While Kenya gained its independence from Britain in 1963, Mboya was assassinated in 1969.  Kenya today is known as one of the most corrupt  countries in Africa. Kenya President can change this horrible image. While Kenya is known as one of the most corrupt countries in Africa, Kenya can become the greatest country in modern African history and this is in the hands of Kenyan President Uhuru Kenyatta. Kenya President Uhuru Kenyatta and the Kenyan nation has only to adopt the altruistic spirit and the  foundation based on education and American partnership set forth by Kenyan leader Tom Mboya. Tom Mboya was a transformative world figure.
+
Anthony "Amp" Elmore is a five time World Karate/Kickboxing Champion who lives in Memphis, Tennessee 1st visited Kenya in 1990 to premier his movie "The Contemporary Gladiator".  Elmore became inspired in Kenya to promote the spirit and mission of Tom Mboya.   Elmore wants to discuss this mission with the Kenya President. Elmore is confident that the Kenya President will understand and feel his spirit because Elmore as a "Community Activist" in Memphis etched 1st Kenya President Jomo Kenyatta in his heart and Uhuru Kenyatta is like a family member.  Elmore believes that President Kenyatta has the Kenyan people at heart.
Elmore took groups to Kenya for over a decade and understand what it takes to get African/Americans to Kenya.  In 1992 Elmore met with Kenya President Daniel Arap Moi.  President Moi named Elmore an African Ambassador. In 1995 Elmore married a Kenyan woman, while they are no longer married they have an almost 17 year old son Anthony "Amp" Elmore Jr.  Elmore has  over 25 years of Kenya, trade, culture and economics relationships with Kenya.  Elmore introduced Kickboxing in Kenya, promoted a concert and got Kenya honored in Memphis "Africa in April Celebration" in 2004. Elmore befriended then Kenya minister to tourism Najib Balala who is a cabinet minister in the Uhuru Administration.
In 2009 Memphis Congressman Steve Cohen arranged for Elmore to meet with Kenya Ambassador Peter Ogego. Elmore with the spirit of Tom Mboya introduced a plan called the "Safari Initiative" whereas Kenya renew the Tom Mboya spirit with America whereas Kenya would be the 1st African Country to honor African/Americans with a "Formal State Reception" and Kenya would be the 1st African Country to build a cultural infrastructure that would bring economics, trade and jobs to both Africa and America.  Elmore wanted to address the Kenya Parliament and  Ambassador Ogego welcomed Elmore's efforts.
 In 2010 Kenya replaced Ambassadors naming Elkanah Odembo as Kenya's Ambassador.  Kenya Ambassador Elkanah Odembo and Kenyans from Western Kenya who worked with Elmore most  represented a spirit antithetical of Tom Mboya. Ambassador Odembo ignored Elmore's letters as Elmore attempted at building relationships between Kenya and Memphis.   Ambassador Odembo came to Memphis for a Kenya Jamhuri 2012 (independence celebration). Elmore wanted to show the Kenya Ambassador his home and how Kenya could create jobs for many of its people.
Memphis Congressman Steve Cohen wrote the Ambassador regarding his action of not meeting with Elmore in Memphis. In February of 2013 Ambassador Odembo met with Elmore at Memphis Congressman's Cohen's Washington D.C. office.  Ambassador Odembo embarrassed Elmore and made it clear that Kenya was not interested in working with him.  After the meeting with Congressman Cohen Ambassador Odembo explained to Elmore that in 2004 Elmore worked with Kenya Minister of Tourism Najib Balala and because of that relationship his office could not work with Elmore because they were going to fire Minister Balala.  Ambassador Odembo used the power of his Kenyan office to server the many years of connections opportunities Elmore had with the Kenyan government.
In May of 2013 Elmore traveled to Western Kenya to pay repose to Tom Mboya. Elmore wants to produce the Tom Mboya movie and he looked for support in Kenya. Elmore found the spirit of Tom Mboya lacking in Kenya and Kenya a country lacking in the spirit of "Harambee" which means to pull together. The strongest display and disregard and disrespect for the spirit of Tom Mboya came from Kenya Governor Cornel Rasanga  who represents Siaya, County where the Obama family lives. Elmore traveled to Western Kenya to ask several  Governors to come to Memphis and honor the legacy of Tom Mboya via visiting the National Civil Rights museum and connecting with African Americans and inviting the African American community in Memphis and America to visit Kenya.
During his visit to Kenya in May of 2013 Elmore visited Nyanza Headquarters and he met with Sarah Obama the Grandmother of President Obama.  Grand mother  Sarah Obama understood Elmore's mission in Kenya and she agreed to come to Memphis and support the "Safari Initiative."  Three Kenyan Governors came to Memphis whereas Elmore introduced the Governors to his friend Tennessee State Representative G.A. Hardaway. The Tennessee State Representative Hardaway and Kenya Governor Rasanga  disregarded Elmore's "Safari Initiative" and arranged a "Clandestine personal deal" with Siaya County Governor Cornel Rasanga.   Kenya Governor Cornel Rasanga  returned to Memphis in December of 2013 bringing the entire "Siaya County" Legislative body to Memphis, Tennessee.  The group made jokes about "Tom Mboya" and told Elmore that "Tom Mboya was dead."  Elmore asked Governor Rasanga  why  his group is embarrassing President Obama and cheating Kenya people. They refused  to promote Tourism in "Siaya County" in Memphis whereas their act is a betrayal to President Barack Obama and Kenyan people.  President Obama's recent visit to Kenya mention to Kenya President Kenyatta about corruption in Kenya. President Obama not coming to "Siaya County" could have been influenced by the corrupt actions of the "Siaya County Body."  The group expressed to Elmore that they were not interested in lofty ideas of Tom Mboya, further they said "Tom Mboya was Dead."  President Obama could not come to a "corrupt county." Elmore recorded an Mboya "Spirit of Kenya Unity Song."
Elmore in the 1990's took groups to  Kenya for over a decade and he opened an African import business in 1998 importing products from both Kenya and Ghana, also he visited Ethiopia.  Elmore came to realize there exists no cultural infrastructure whereas travel, importing products or opening the channels for small business is almost impossible.   Elmore tried for almost two decades to get his friend Memphis Mayor W.W. Herenton to open trade between Memphis and Africa.  Congressman Cohen arranged for Elmore to meet with the Congressional Black caucus only to find a wall of bureaucracy. Elmore asked Congressman Cohen to arrange a meeting with Delta Airlines only to learn the Congressman would have a conflict of interest since he was on the "Transportation Committee."
The facts speak for themselves African Americans spend over 48 billion a year on travel. Africans Americans travel in groups more than any ethnic group in America.  African Americans spend over 500 Billion a year on home furnishings.  At the "stroke of a pen" Kenya President Uhuru Kenyatta could change the way America and the world thinks of Africa via creating quality African styled products in Kenya. Elmore wants to share with Kenya how this can be done.
African Americans have a GDP over 1.1 trillion dollars and there exists  nowhere in Africa or Kenya a structured  African American tour.  Kenya is one of the most beautiful places on planet earth.  Kenya's history begins with Kenya's Tom Mboya connecting with the civil rights movement in America.  Kenya's 1st President Jomo Kenyatta is a "Black Nationalist Hero" for human rights.
Elmore wants to suggest to the Kenya President that Kenya follow the spirit of Tom Mboya via being the 1st African Country to create a cabinet position named  ""The department of African American relationships" whereas African/Americans can become one of Kenya's greatest trading partners tourist visitors. Why should Africa allow Japan, China and Europe to get all of the Black dollars and Africa gets next to no "Black Dollars."
Elmore wants to help create the Tom Mboya movie which Elmore would love to direct.  Also, Elmore suggest that Kenya start the Mboya/King Educational, History, Cultural museum that will become the World's  "Spiritual Center" to bring change in the world.
Elmore notes that it only takes the "Stroke of a Pen" and will power from Kenya President Uhuru  to come to Memphis, Tennessee and pick up the Gauntlets of Dr. Martin Luther King  and Tom Mboya to become Africa's Greatest leader in the 21st Century.
Share: