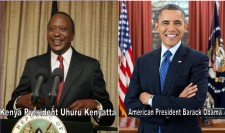 Anthony "Amp" Elmore a Five Time World Karate/Kickboxing Champion connects his life and spirit to President Obama, President John F. Kennedy and Dr. Martin Luther King via that of Kenyan Hero Tom Mboya. It was Tom Mboya who got Obama Sr. to Hawaii in 1959. Elmore accounts his visit to Kenya in 1990 whereas he was visited by the "Spirit of Tom Mboya."
Memphis, Tennessee United States of America, April 20, 2016 (Newswire.com) - ​Anthony "Amp" Elmore is a "Five Time World Karate/Kickboxing Champion," Community Activist, Nichiren Buddhist and a 21st Century Harriet Tubman the Abolitionist who took slaves to freedom.  instead of taking slaves to the North to Freedom Elmore's passion is to take African/Americans to Africa to connect to their African Ancestry. Elmore is asking Kenya President Uhuru Kenyatta to honor African/Americans with a formal state Reception in 2019.
One would think that Elmore's greatest ally for such a move would be the large Afro Dashiki wearing Black power movement Black revolutionary soul brother. Instead  Elmore's strongest Ally is  66 year old White Jewish Congressman Steve Cohen who represents the 9th Congressional District in Memphis, Tennessee. Congressman Cohen is the only White representative in America that represents and a majority Black District. Cohen is the 1st representative in America to introduce and get legislation pass whereas America apologized for slavery.
Elmore's passion to bring African/Americans to Africa borders lunacy and it was the Obama Presidency of 2008 that became Elmore's saving grace.  Elmore's passion to connect African/Americans with their African heritage started in July of 1990 after a visit to the Massai Mara plains in Kenya.  Elmore traveled to Kenya in to premier his independently semi-autobiographical film "The Contemporary Gladiator." While in Kenya Elmore explains that he was visited by "Ancestral Spirits" and his life has never been the same.
Elmore notes it is difficult to explain what happen to me during my visit to Kenya but some spirits connected with me and told me to bring Black people back home to "Mother Africa." While one might call Elmore a bit crazy the same thing happen to comedian Richard Pryor when he visited Kenya in 1979.  Richard Pryor became less funny and he stop using the "N" word after a spiritual awakening in Kenya.
Elmore explains with all of the stories written about President Obama there is a fascinating back story that connects Elmore to President Obama. In 2013 Elmore  traveled to Rusinga, Island in Kenya to recite the Lotus Sutra Buddhist prayers for the repose of Kenyan hero Tom Mboya.  Elmore has kelped his Tom Mboya relationship a secret in that if he told others about his Tom Mboya story he would be deemed to a "Nut house." Elmore notes that l learned in Kenya that one of the "spirits that touched my Soul was that of Kenya's Tom Mboya. Elmore notes that he not only met "The spirit of Tom Mboya" in Kenya he met the  spirit and friends Tom Mboya made in America.
In 1956 26 year old Kenyan Tom Mboya came to America. In 1956 there was no country called Kenya. What is now Kenya was a "British Protectorate."  Tom Mboya had the vision that Kenya would be a Country someday and in order for Kenya to govern themselves there needed to be educated Kenyans.  Mboya influenced a program called "Airlift America" whereas money was raised for "Airfare to bring Kenyans to America to go to college.
The backdrop of the spirit of President Barack Obama Jr. is a story of a friendship of a Black man Kenyan Tom Mboya and a White man by the name of William x Scheinman.   William X Scheinman was a self-taught Wall Street analyst who became an enthusiastic supporter of the independence movement in Africa who  lent his support to help the 26 year old young Kenyan Tom Mboya to bring students from Africa to get an education. Together Scheinman and Mboya started a program called "Airlift America."
Before the world ever heard of a Barack Obama Jr. Elmore met the spirit of Mboya and others in Kenya.  Recently CNN news featured a story called Race to the Whitehouse  an American political television show that discusses various presidential election campaigns throughout United States history. In relationship to the Kennedy/Nixon Presidential race the CNN story does not come close or relate the Kennedy Presidential victory to Kenya, Mboya and Africa.
In 1959 William Scheinman introduced Tom Mboya to Senator John F. Kennedy.  Mboya asked Nixon who was Vice President to help the African students get transportation to school in America.  The State department turned Nixon down.  Desperate Mboya came to America in 1960 and asked Kennedy for the money.  Kennedy agreed on the contingency that the donation be kelp secret. Word got out and an almost scandal erupted. The Black press favored Kennedy and  wrote stories so positive about the issue that Blacks not only voted for Kennedy giving him a win in a close race, the Mboya factor helped African/American change political parties from Republican to Democrat. 
Although Kenya was not a Country until 1963    the "Spirit of Kenya" was connected deep into the fabric of America in that Dr. Martin Luther King was friends with Tom Mboya and his Church sponsored a Kenyan student.  It was baseball great Jackie Robinson, Actor Sidney Pointier and Civil Rights icon Harry Bellafonte who lent their names to Jet magazine that raised the money for the 1st group of Kenyan Students to come to America in 1959.  Black Supreme Court Justice Thurgood Marshall wrote Kenya's Constitution.
It was in 1959 that a 23 year old Barack Obama arrived in Hawaii to go to college. While the Obama story is history in America it is the Mboya story that has captured the heart and spirit of Anthony "Amp" Elmore.  Elmore notes the difficult struggle and pain he has faced since traveling to Kenya in 1990. The spirit of Tom Mboya caused me to suffer financially when he moved away from my Carpet business and a career associated with Karate/Kickboxing in that Elmore is "Father of Karate/Kickboxing" in Memphis.  Today mixed Martial art fighters make millions. We could have written books or opened a chain of karate schools however my passion in life was to complete the work of Kenya's  Tom Mboya.
Elmore last traveled to Kenya in May of 2013.  Elmore a like Tina Turner is a Nichiren Buddhist.  Elmore a Buddhist teacher traveled to Kenya to recite the Lotus Sutra prayers for the "Repost of Tom Mboya." Elmore met with six Kenya governors one being Dr. Evans Kidero the Son-in-law of Kenya's Tom Mboya. Elmore asked the Kenya Governors to help bring African/Americans to Kenya. While in Kenya Elmore met Sarah Obama the Grandmother of President Barack Obama Jr.  When Sarah Obama met Elmore her first words in her  native Luo language was to explain to Elmore that he was from the family of Africans they took to America and that he was at home and she was also "His Grandmother." Elmore asked her to come to Memphis, Tennessee and tell African/Americans to come home.
In 1992 Elmore met Kenya President Daniel Arap Moi. President Moi named Elmore a "Kenyan Ambassador." In 1995 Elmore married a Kenyan woman.  While they are no longer married they have a son who is 1/2 Kenyan. 
In 1992 Memphis elected its first African/American Mayor Dr. W.W. Herenton. For 16 years Elmore battled with his friend Dr. Herenton to use his influence to connect Kenya and Memphis. Dr. Herenton vehemently rejected developing any relationships between Memphis and Africa.
Elmore's saving grace was the election of President Barack Obama Jr. whose father was from Kenya.  Elmore noted to his friend Memphis Mayor Dr. W.W. Herenton that we now have a President who would understand his passion for Kenya and bringing Americans to Kenya. Mayor Herenton reminded Elmore that he had his friend Congressman Steve Cohen to assist him and he was not "The One."
Elmore's battle to connect African/Americans to Africa lead to defeat, after defeat.  Congressman Cohen arranged for Elmore to meet the Congressional Black Caucus and he hit a brick wall.  The most crushing defeat came when Congressman Cohen invited Kenya Ambassador Elkanah Odembo to his Washington office to meet Elmore.  The Kenya Ambassador embarrassed  Elmore when he explained to Congressman Cohen that Kenya wanted nothing to do with Elmore.  After the meeting Ambassador Odembo explained to Elmore that the rejection was nothing personal. In 2004  Elmore got Kenya honored in the Memphis "Africa in April Celebration." Kenya minister of Tourism Najib Balala was the guest and  friends with Elmore, any endorsement of Elmore would be endorsing Najib Balala, the Ambassador explained to Elmore.
On April 7, 2016 Memphis Congressman Steve Cohen arranged for Elmore to meet Kenya Embassy officer Abdirizk Musa a representative of new Kenya Ambassador Robinson Njeru Githae. The question asked to Elmore was why wait so long let's have a celebration in Kenya next year in 2017.
Elmore would like to write and direct  the Tom Mboya movie.  Without an Mboya there would never have been a President Obama.  We want the world to join with former President Barack Obama in Kenya for a homecoming celebration next year.
Source: The Safari Initiative Foundation
Share: